Fully automatic machine Megomat 1000
We offer automatic wire processing machines for a variety of applications.
The Megomat 1000 from Schäfer is impressive with innovative technology in all areas. Thus an unusually large gross section area on lines can be processed. A special arrangement of the blades enables extremely short cable projections. A cable guide that can be adjusted via the software makes it possible to dispense with guide nozzles on the gripper. The large, swivel area of the gripper arms that can be used on both sides offers incredible flexibility for many applications.
Placement of all drive elements in the machine frame of the megomat 1000 provides a clear layout and thus an optimal process view.
---
Flexible equipment and extensions
The basic equipment of the fully automatic Megomat 1000 cable processing machine includes:
Base frame including control cabinet and attachment tables
Cutting head with knife set and reject part cutter
Intermediate gripper with movable storage place
PC with touch screen display
Operator software WireStar
Optional extensions, stations and modules for increasing the productivity and quality:
Shuttle System
Seal Module SSM
Active delivery belts
Printer
Crimp monitoring systems

Crimping height adjustment
Cable trays
Contact strip chopper
Fluxing station
Wire doubling modules
---
Customer-specific special applications
Beyond the equipment possibilities of the Megomat 1000 offers the opportunity of implementing special cable manufacturing applications. For example, processes for fitting cables with housings and ferrite cores. For this a wide variety of different, as well as the customer's own modules can be applied for this. The implementation of additional custom software is also possible for the Megomat 1000.
---
Innovative machine software
The newly developed WireStar machine software offers an intuitive user interface and innovative network functionalities. Production orders can be created quickly and easily using realistic machine presentations. Clear and understandable management of the production data and sure guidance of the user through complex workflows occur via the user-friendly touch screen.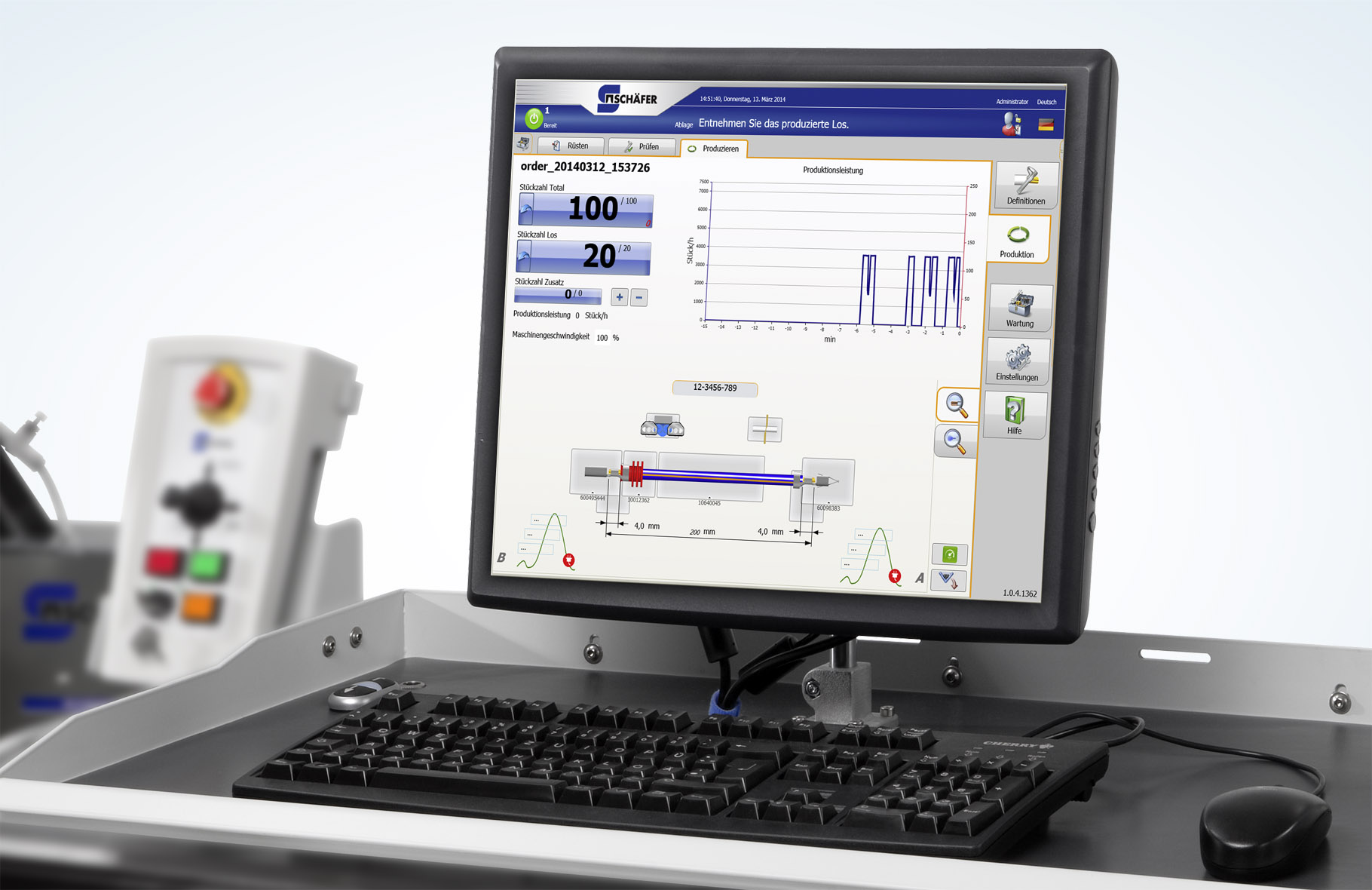 ---
Technical Data
The data are approximate specification of the basic equipment and are depending on material, wire and terminal of the application.
| | |
| --- | --- |
| Processable wire | |
| Type of wire | Single conductor |
| Cross sections | 0.08 mm² – 8 mm² |
| Conductor | Copper, fine stranded wire |
| Material of insulation | Teflon, PVC, etc. |
| Cut length | |
| Minimum | 30 mm |
| Maximum | 99 m |
| Wire prefeeding | |
| Feeding | with belt drive |
| Speed | up to 10 m/s |
| Number of stations | |
| Side A | 2 |
| Side B | 2 |
| Production rates | |
| Crimp/Crimp by 50 mm wire length | over 5000 parts per hour |
| Seal/Seal by 50 mm wire length | over 3000 parts per hour |
| Supplies and interfaces | |
| Power supply | 3x (208-480V), 50/60Hz, 3,5kVA |
| Compressed air | 6 bar, dry and oil free |
| Network capability | Yes |
| Interfaces | RS232 Ethernet |
| Temperature range | |
| Operation | 15 °C – 40 °C |
| Storage | 0 °C – 60 °C (rF < 80%) |
| Dimensions & Weight | |
| Length x Width x Height | 3350 x 1450 x 1900 mm |
| Weight | 1.100 kg |
---
Brochure
Fully automatic Megomat 1000 → PDF
---