Kolb offers different feeding units from Ulmer to optimally feed the cable from the coil or from cable drums to the manufacturing process.
Feeding Unit ZG 200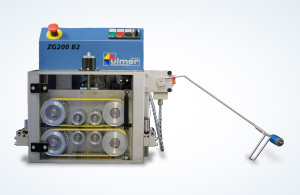 The compact feeding unit ZG 200 B2 has been developed as an active feeding system for the processing of cables, stranded wires, and tube materials. For example, with the ZG 200 B2 feeding unit, conductors from coils, Conipacks, from cable drums, cable shelves or tube coils can be pulled off optimally and fed into the downstream processing cycle. In this regard, preliminary transport occurs via two synchronously running, coated toothed belts. Fine, coarse or non-round cables can be fed forcefully and gently. Retooling is fast and easy.
For twisted or rigid wires, an ideal supplement to the wire pull machine is the optional DHS1000 D wire-sag control unit with touchless operation. The DHS sensors continuously monitor cable sag and prescribe the appropriate feed speeds.
The ZG 200 B2 is equipped with a mechanical upper belt delimitation that enables safe and gentle processing even of pressure-sensitive materials.
Technical Data
ZG200-B2
ZG200-B2
ZG200-B2
ZG200-B2S
Power
370 Watt
550 Watt
750 Watt
560 Watt
Drive motor
Direct current
Direct current
Direct current
Servo
Throughput height
30,0 mm
30,0 mm
30,0 mm
30,0 mm
Throughput width
30,0 mm
30,0 mm
30,0 mm
30,0 mm
Speed
0,9 / 1,35 / 1,93 / 2,70 m/s
0,9 / 1,35 / 1,93 / 2,70 m/s
0,9 / 1,35 / 1,93 / 2,70 m/s
2,7 m/s
Length incl. arm
84 cm
84 cm
84 cm
84 cm
Width
48 cm
48 cm
48 cm
48 cm
Height
48 cm
48 cm
48 cm
48 cm
Coil weight maximum
40 kg
65 kg
100 kg
100 kg
Weight
53 kg
55 kg
57 kg
51 kg
Pneumatic supply
3 bar / 22 psi
3 bar / 22 psi
3 bar / 22 psi
3 bar / 22 psi
Power supply
230 V / 50 Hz
230 V / 50 Hz
230 V / 50 Hz
230 V / 50 Hz
Power supply optionally
110 V / 60 Hz
110 V / 60 Hz
110 V / 60 Hz
110 V / 60 Hz
Discharge height with
optional base stand:
109 cm
109 cm
109 cm
109 cm
---
Brochure
Feeding Unit ZG 200 → PDF
---