Cutting Machine USG 802
We offer machines for the efficient cutting of a wide range of materials.
The programmable USG 802 cutting machine from Schäfer stands for effective processing of a wide range of materials. Easy setup, reliable process and safety for operating personnel have already been considered in the development of the operating elements of the cutting machine. When opening the guard during operation the machine stops immediately. An emergency stop switch is attached for additional safety.
With the setup function the specific program steps can be run through separately, which is useful when setting up the cutting machine. After adjusting the machine, the automatic process can be started. A counter reliably counts the produced parts. The speed of the material feed is controlled via a potentiometer in order to optimize the respective process. The printer interface and high-speed cutting knife are available as options.
Technical Data
| | |
| --- | --- |
| Electric supply | 110V 60Hz, 230V 50Hz |
| Pneumatic supply | 6 bar |
| Pneumatic consumption | 0,6 l / cut |
| Drive motor | Stepper motor for feed rollers, pneumatic cutting |
| Processable wire | Single wire, ribbon cable, foils, tube materials |
| Processable cross sections | up to 11 mm cutting height and 120 mm width |
| Feeding | roller drive |
| Feeding speed | up to 0,8 m/s, infinitely variable |
| Cut lenght minimum | 1 mm |
| Cut lenght maximum | 99,9 m |
| Cutting head | pneumatic activated , with single blade also in HSS |
| Control | C-MOS |
| Interfaces | hot stamping printer PMG 313 |
| Dimensions (L x W x H) | 650 x 360 x 460 mm |
| Weight | ca. 28 kg |
---
Brochure
Cutting Machine USG 802 → PDF
---
Cutting Machine SM 15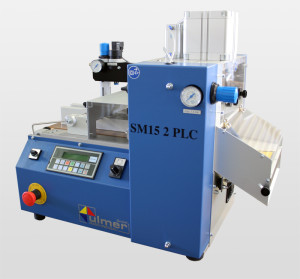 The solid and robust series SM 15 universal cutting machine from Ulmer is configured for a variety of different materials.
With appropriate accessories PVC and fabric hose, natural rubber, rubber, ribbon cables, round cables, wires, stranded wires, ropes, felt materials, foils, textiles, leather, materials from the medical sector, and many other products can be processed.
Three different cutting tools are available:
Punch cut for tube, foam rubber cords, and sealing profiles
Shear cut for ribbon cable, round cable, and stranded cores, shrink tube, etc.
Tube cut for different tube materials
An optional miter-cut cutting head is available for the SM 15 2PE.
In supplementation, the SM 30 type series is available for particularly wide materials or multi-web cutting. With a maximum passage width of 300 mm this offers an optimum cutting machine technology in the area of foils and multiple cuts.
The infeed side lateral guides can be freely adjusted to the width of the material. They are available in different versions.
Technical Data
| | |
| --- | --- |
| Drive motor | Servo |
| Speed | 1.0 m/s |
| Length | 650 mm |
| Width | 410 mm |
| Height | 570 mm |
| Input | foil keyboard |
| Display | multi language |
| Production Counter | included |
| Total Counter | included |
| Machine Auto Stop | included |
| Length Resolution | 0,1 mm steps |
| Max. Length | 999.999 mm |
| Max. Input Height | round material up to 28 mm in the centre of the machine |
| Total Input Heigt | 15 mm |
| Lifting | pneumatic |
| Pneumatic Supply | 6 bar / 87 psi |
| Electric Supply | 230 V / 50 - 60 Hz |
| Blade Stroke | pneumatic |
| Air Consumption / Stroke | 3.35 l |
| Weigth | 65 kg |
---
Brochure
Cutting Machine SM15 → PDF
---